Vote now for #d4d17 sessions!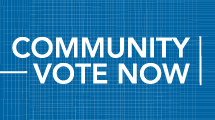 One of the many ways Designing for Digital planners build programming is through an open call for proposals, and we want to open up this area of our programming to the community.
So starting today, the Designing for Digital Program Planning Committee welcomes and encourages the community to participate in an open, easy and anonymous community vote of the 2017 Designing for Digital Conference submitted proposals.
Our community voting requires no registration and is open now through December 21st!
View and vote here: https://goo.gl/forms/wD9aDkh0RINAB2eJ3
Scan submission titles & abstracts and simply check off the sessions you'd like to attend or those you think should be included in our conference.
Voting is open for a short time and will close on Tuesday, December 21st at 12am Midnight Eastern.
Happy voting!
Designing for Digital Program Planning Committee
Posted December 15, 2016 in: Event by Danielle Sell
---
UP